Teen Suicide and Self-Harm
The Teen Suicide and Self-Harm Prevention Workbook is a proactive approach to dealing with the many characteristics that may prompt teens to experience self-harm and suicide ideation. This workbook, to be used with clients in the care of a trained clinician, provides progressive information and tools to help your clients manage thoughts, feelings, and behaviors related to self-harm and suicide.
It is a practical, step-by-step guide, presenting a detailed understanding of the context in which self-harm and suicide play out in a person's life. Learn warning signs and risk factors experienced by people suffering from thoughts and actions of hurting themselves, ways to prevent suicide ideation, and methods for finding a healthy support network.
Clinicians are responsible for ensuring the health, well-being, and safety of the person or people with whom they work while using this workbook. Use your clinical judgment while utilizing the materials in this workbook. Clinical judgment includes deciding how to best use each handout and activity to help clients achieve maximum health and wellness while working to resolve feelings, thoughts, and behaviors related to self-harm and suicidal ideation.
Our goal for this workbook is NOT to diagnose a client's potential for self-harm or suicidal ideation or for the clinician to make a mental health diagnosis from this workbook's content. Our goal is to touch on some of the symptoms and possibilities, create realizations, and provide coping methods to help people go forward and consider the possible need for further medical help, medications, and therapy. Mental health issues of ANY kind are not to be stigmatized nor should anyone need to feel like a victim of stereotyping.
Most importantly, our goal for this workbook is to help clients recognize that many other people have many of the same issues, to which NO shame is connected, and self-harm and suicide are not the answer to their problems.
Use the pages of this workbook in various ways:
Use activities with individual clients alone, in pairs, or in a very small group. If there is more than one person, have individuals complete activities and then share, as long as all participants are comfortable doing so.

Individual clients or small group members can complete the activities with the help of a clinician if needed. When utilizing this approach, clinicians will also help their clients process their responses to the various activities they have completed.

Small group members can utilize the activities as part of the therapeutic process. Using this approach, they can process the information together with other group members to help achieve commonality and optimal results.

Explain to the clients that they need to use a name code when writing or talking about other people in their lives to ensure privacy. (Ex: H.H.M. might be, He helps me!) Don't use a person's initials. If there is more than one client, explain that this will be a What is said in this room, stays in this room session.

A very small group is often successful in having group members work together in pairs. When utilizing this approach, pair group members willing to work together. Pairs can process information, role play, or work as a team in a group discussion.

The clinician can choose the reflection activities that will best assist clients in overcoming their desire to self-injure or die by suicide. Use the materials in this workbook's chapters in an individual or a very small group setting. If the clinician is using this workbook with a small group, they may photocopy or print enough materials for the members in the group, or allow individuals to reflect, write, and then process the materials together.
Chapter Descriptions
Each chapter begins with a table of contents and treatment planning options for clinicians of individuals and small groups to engage in before distributing the actual activity.
Self-Harm
This chapter will help clinicians assist clients in identifying and exploring their self-harm actions as well as discover and implement some tools, skills, and techniques for overcoming this behavior.
Warning Signs
This chapter will assist clinicians in helping clients recognize, identify, and explore the warning signs and the effects that these signs have on their self-harm or suicidal thoughts.
Risk Factors
This chapter will assist clinicians in helping clients explore their various risk factors and ways they can reduce the effects of these risk factors when experiencing a crisis.
Prevention
This chapter will assist clinicians in providing clients with tools, skills, and techniques for receiving help and reducing their self-harming and suicidal ideation.
Support
This chapter will assist clinicians in providing clients with ways to access various needed support people and community resources.
Client and Clinician National Resources
This chapter will provide clients and clinicians with information about self-harm and suicide prevention from national resources.
*Free PDF Download
When you purchase your copy of the Teen Suicide & Self-Harm Prevention Workbook, you'll receive a free PDF download of the assessment tools and all of the reproducible activities in this workbook, making it easy to make copies.
Teen Suicide & Self-Harm Prevention Workbook eBook (PDF)
This workbook is also available as an eBook (PDF format). Save the eBook on your computer and print off the worksheets and handouts as you need them.
Teen Suicide & Self-Harm Prevention Card Deck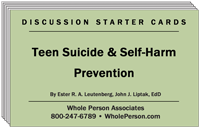 Using the Discussion Starter Card Deck will break the ice, encourage openness, and help introduce a specific subject. Activity handouts included in these workbooks are reflective, easy-to-use exercises, presented in a variety of formats to accommodate multiple intelligences and different learning styles. Each question corresponds to a page in the workbook.
Sample Questions:
Many people harm themselves in an attempt to deal with their emotional pain. What does your emotional pain feel like?
Rather than impulsively harming yourself in any way, what is a possible alternative at an emotional moment? Ask others in the room.
It is very important to have a team of people that can be activated when one is considering self-harm or suicide. Who is part of your support team?