Coping with Sleep Issues
The Coping with Sleep Issues Workbook provides assessments and facilitator guided self-exploration activities to help those experiencing sleep problems learn useful ways to explore, find support, and cope effectively with sleep problems and disorders related to sleep. Many choices of self-exploration activities are provided for participants and you to determine which best suit their unique sleep related needs.
Common Sleep Issues
Common sleep problems include: Snoring, Working Shifts, Anxiety, Illness, Pain, Diet, Stress, Medications, Uncomfortable Surroundings. More severe disorders like Delayed Sleep Phase Disorder (DSPD), Insomnia, Narcolepsy, Nightmares, Restless Leg Syndrome (RLS), Periodic Limb Movement Disorder (PLMD), Sleep Apnea, Sleep Talking, Sleep Terror Disorder, and Sleepwalking, to name just a few.
Each chapter of this workbook begins with an annotated Table of Contents with notes and examples for the facilitator. Each chapter contains two primary elements:
a set of assessments to help participants gather information about themselves in a focused situation,
a set of facilitator guided self-exploration activities to help participants process information and learn ways of coping with the sleep issues they are experiencing.
The activities are divided into four chapters to help identify and select assessments easily and quickly:
Chapter 1: My Sleep Symptoms
This chapter helps participants to explore the quality of their sleep along with the symptoms related to their lack of sleep, and determine what may be keeping them from getting adequate amounts of sleep.
Chapter 2: Changes I Can Make
This chapter helps participants to explore bedroom routines that may prevent sleep and to set up specific accommodations for sleeping more effectively.
Chapter 3: Overcoming Common Causes
This chapter helps participants to identify the various ways stress, anxiety, and environmental situations can be contributing to a lack of sleep, and to explore ways of overcoming some of these issues.
Chapter 4: Self-Awareness and Self-Care
This chapter helps participants to explore ways of being aware of their issues and to define ways to take care of themselves by developing effective sleep habits.
All of the facilitator guided teaching activities are fully reproducible for use with your clients/participants.
This workbook is also available in PDF eBook format, making it simple to store on your computer or mobile device, and to access with a PDF viewer. The PDF format also allows you to easily print copies of the activities and worksheets for use during therapy and counseling sessions.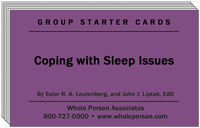 Coping with Sleep Issues Card Deck

Need a creative way to start your session? Use the Coping with Sleep Issues Card Deck. The open-ended questions will break the ice and stimulate conversation. Use them alone or in conjunction with the corresponding page in the book.
Sample Questions:
What does your sleep disturbance look like? Describe it to other members of the group.
How do you envision a perfect bedtime sleep? Describe it to the group. What is keeping you from having this?
How do you feel the rest of the day after you have had an awful bedtime sleep?