A Reproducible Workbook for Groups and Individuals
Family members, and sometimes close friends, are often called upon to act as caregivers to ill or aged people they care about or for whom they are responsible. Although there are many rewarding outcomes of the time spent between the courageous and dedicated caregiver and the care-receiver, the caregivers are usually unprepared, untrained and unsupported. The caregivers are also often isolated. These factors can put a huge amount of stress on non-professional or family caregivers.
Attending a caregiver support group focusing on specific issues is of great benefit for caregivers. Such groups can include those facilitated by professionals such as social workers, counselors and group facilitators, and those facilitated by lay persons, often themselves caregivers.
The intention of Caregiver Support is to provide content for support group facilitators and caregivers that touches on crucial topics. The reproducible handouts and worksheets are designed to provide insights, encourage problem-solving and develop the ability for caregivers to ask for the help they need to stay physically and emotionally healthy, allowing them to continue to be there for their care-receiver.
While the book has an emphasis on caregiver support groups, the value of the handouts is the same for both groups and individuals. The individual seeking help in dealing with the stresses of their role as caregiver will find sections or individual handouts that speak to their most pressing needs.
After working through them, individuals can discuss their insights with someone they can trust to give useful feedback, as well as family members who are willing to help in ways that will contribute to the caregiver's continued wellbeing.
The eight chapters in the book and are briefly described below:
·

Chapter 1. The Caregiver Support Group offers advice on organizing, promoting, preparing for and leading a caregiver support group.
·

Chapter 2. Support Group Openers and Closers includes creative activities to kick-start and effectively close support group meetings.
·

Chapter 3. Self-Care for the Caregiver contains reproducible exercises and handouts prompting participants to come up with strategies for maintaining their own physical and mental health as they care for others.
·

Chapter 4. Communication includes sections on effective communication, how to communicate when the care-receiver is confused or difficult to work with, as well as how to be more empathetic. It concludes with a section on preparing for and having sensitive conversations.
·

Chapter 5. Family/Close Friends Dynamics includes a substantial section giving the caregiver guidance on how to hold family meetings to discuss the care-receiver's current health, finances and end-of-life issues, plus how to ask for what he/she needs to avoid burnout. It also has ideas for handling the holidays and visits to the care-receiver.
·

Chapter 6. Being an Advocate for the Care-Receiver is full of information on what is necessary for effective advocacy, including doctor's visits, crisis preparation and home safety.
·

Chapter 7. Record Keeping supplies reproducible forms that will help the caregiver track expenses, healthcare-related conversations, medications and hospitalizations. The Substitute Caregiver's Form is invaluable for providing the information needed for another to take over in the caregiver's absence, whether for a few hours, a day or a longer period of time.
Chapter 8. Resources contains a list of suggested caregiving books and disease/illness national associations.

"An amazing and compassionate approach toward both the caregiver and care-receiver, and sensitive to both the care-receiver's feelings and needs. Very comprehensive. Nothing was forgotten. Unbelievably essential! So many needs of both caregivers and care-receivers are addressed beautifully." -Carol Butler, MS Ed, RN, C

This workbook is also available in PDF eBook format, making it simple to store on your computer or mobile device, and to access with a PDF viewer. The PDF format also allows you to easily print copies of the activities and worksheets during therapy and counseling sessions.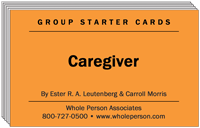 Caregiver Card Deck


Need a creative way to start your session? Use the Caregiver Card Deck. The open-ended questions will break the ice and stimulate conversation. Use them alone or in conjunction with the corresponding page in the book.
Take a moment to go inward. What three emotions are you feeling right now? Can you take a deep breath and let any uncomfortable emotions go?
Name one of your short-term goals, either personal or related to caregiving. How do you plan to accomplish it? What steps will you take toward it this week?
Are you able to forgive yourself for something you could have done better? If so, how does that help you move forward? If not, ask group members how they handle such situations.