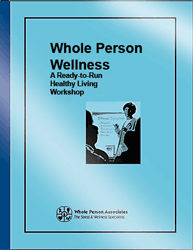 A Ready-to-Run Healthy Living Workshop

Many of our customers have asked us for help putting together workshops on specific topics. We have assembled a group of ten ready-to-run topics from the materials in our seminal Structured Exercises in Stress Management and Structured Exercises in Wellness Promotion. Each has everything you need to present a successful, topic-focused, three-hour workshop including mini-lectures, handouts, and group activities. Don't have three hours? We have included suggestions on how to cut the workshop back to an hour.

Whole Person Wellness will help you prepare quickly and efficiently for presentations on general wellness. The multi-part session is flexible, so you can select the activities most appropriate for your group. They include:

• My Mother Says is a quick ice-breaker where participants introduce themselves as they exchange health tips. (10-15 minutes)
• Whole Person Health Appraisal is a novel health appraisal process where participants draw on their own wisdom to assess their level of physical, mental, emotional, social, spiritual, and lifestyle health. Participants then identify their personal health risk areas. (20-30 minutes)
• Healthy Sing-Along is a playful song, which is fun to sing and celebrates good health. (3-5 minutes)
• Wheel of Health is an extended process that helps participants explore the concept of wholeness by involving them in the building of a whole person model and examining the implications of their design. The process includes three parts: A)( building the wheel model on the blackboard; B) exploring the implications of the wheel; C) self-examination using the wheel as a personal radar screen. (60-90 minutes)
• Four Corners is a reflection-action exercise where participants fantasize the long-run implication of their whole person self-care habits and lifestyle choices by imagining what type of health breakdown they are headed toward. (15-20 minutes)
• Daily Wellness Graph helps participants learn how to chart the daily ups and downs of their progress toward higher levels of wellness. (20-30 minutes)

All of these activities are complete with variations to adapt them to your specific group or time frame. Each includes a complete list of materials needed and suggestions to make your workshop run smoothly and professionally.