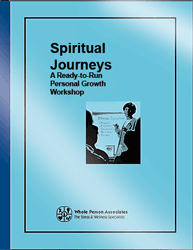 A Ready-to-Run Personal Growth Workshop

Many of our customers have asked us for help putting together workshops on specific topics. We have assembled a group of ten ready-to-run topics from the materials in our seminal Structured Exercises in Stress Management and Structured Exercises in Wellness Promotion. Each has everything you need to present a successful, topic-focused, three-hour workshop including mini-lectures, handouts, and group activities. Don't have three hours? We have included suggestions on how to cut the workshop back to an hour.

Spiritual Journeys will help you prepare quickly and efficiently for presentations on spirituality. The multi-part session is flexible, so you can select the activities most appropriate for your group. They include:

• Spiritual Fingerprint is a playful, right-brain exercise where participants create an art work which symbolizes their current spirituality and then reflect upon ways to nourish their spirit. (60 minutes)
• Spiritual Pilgrimage creates a lifeline drawing which allows participants an opportunity to trace their spiritual journey, noting those experiences, attitudes, and revelations that contribute to their well-being and identifying areas for future growth. (20-30 minutes)
• Caring Appraisal encourages participants to analyze the quality of their self-care habits (body, mind, spirit, relationships) as well as their other-care commitments (family, spouse, neighbors, creation). (45-60 minutes)
• That's the Spirit! Presents a simple checklist to assess current spiritual self-care habits and then review a menu of spirit-related energizers for enhancing health. (10-15 minutes)
• Breath Prayer allows participants to tap into their inner healing resources in a relaxing, rhythmic, affirmation meditation. (8-10 minutes)

All of these activities are complete with variations to adapt them to your specific group or time frame. Each includes a complete list of materials needed and suggestions to make your workshop run smoothly and professionally.