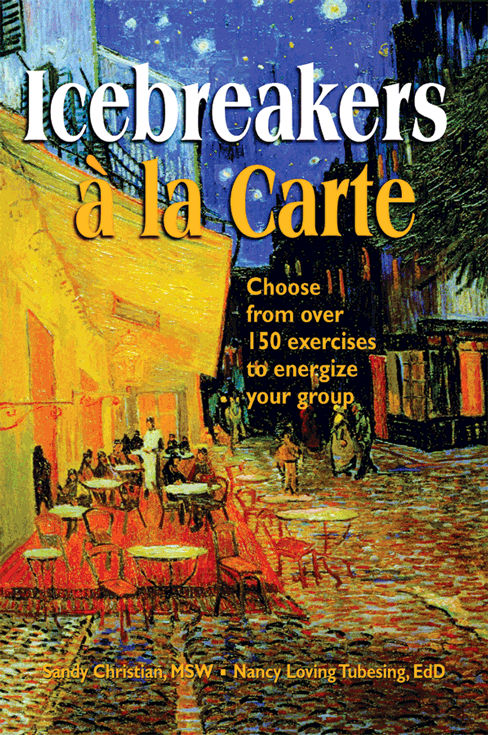 Over 160 ready-to-use icebreakers

Icebreakers are not just for getting acquainted. Using icebreakers with your groups puts them and yourself at ease and sets the scene for meaningful discussion and sharing. At any time during a session, they will stimulate lively interaction. Each icebreaker in this book is easy to present, and reproducible worksheets are included when necessary. Keep your favorites handy in your workshop notebook to stimulate a group that has lost focus or to get participants' attention after a break.

Stop worrying about how to get your group started, energized, and focused. Use these powerful, ready-to-use icebreakers in all of your group sessions.

Worksheets are included in the book and can be enlarged to 8x10 on a photo copier or save time and purchase the digital worksheet masters (PDF).
The Icebreakers

à

la Carte Menu

In the Appetizers course, you will find icebreakers that work especially well in the beginning of a learning experience or at the start of each meeting of a multi-session course or group. Most are brief (5-15 minutes).

• Introductions includes 25 innovative processes for getting acquainted.
• Learning Names offers 7 unusual ways to help participants learn one another's names – and a bit more.
• Getting Issues on the Table features 22 icebreakers that help set the tone and agenda for a session while evoking personal reflection and commitment and promoting group interaction.

The Main Course offers more substantial icebreakers that may introduce significant content for reflection and discussion. These processes take a bit more time, depending on the size of discussion groups (10-30 minutes).

• Group Building Processes offers 15 techniques for building a sense of commitment to the learning community and the agenda.
• Conversation Starters includes 23 handy icebreakers to help get the ball rolling anytime during the session. These open-framework processes are easy to adapt to your content and the background of your group.
• Tools for Self-Awareness explores the use of self-assessments as icebreakers and provides 10 ready-to-go instruments for group use.
• Discussions and Brainstorming presents a rationale for involving the entire group in peer learning, along with 11 structured exercises for promoting interaction and creative problem solving
• Analogies and Metaphors provides 19 intriguing icebreakers that employ nonlinear thinking and paradigm shifts to grain new perspectives on the issues, self, and others.
• Creative Activities will tap into the enlivening creative energies of the group. Use these 27 offbeat icebreakers to engage different learning styles, provoke problem-solving, and promote group bonding.

Complements & Condiments are perfect when the group needs a quick change of pace or charge of vitality

• Zesty Interludes provides 8 different icebreakers that will shift the mood and provide a refreshing break from content bombardment.
• Sauces and Seasonings celebrates the importance of sprinkling humor and playfulness into any learning experience and points to energizing rituals and activities scattered throughout Icebreakers a la Carte.

Dessert offers icebreakers that bring closure to the learning experience.

• Farewells & Resolutions includes 15 processes that help participants articulate their learnings and resolutions and big farewell to their cohorts.