Whole Person Associates announces publication of two new resources: Suicide & Self-Injury Prevention: A Clinician's Guide to Assist Adult Clients and the Teen Suicide and Self-Harm Prevention Workbook, two outstanding new offerings from Ester Leutenberg and John Liptak, EdD.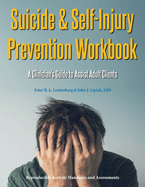 Suicide rates are on the increase in every state except Nevada. They are rising at an alarming rate: by more than 30% in half of the states and as much as 58% in some. Suicide is the 10th leading cause of death in the United States. Every 28 seconds someone attempts suicide. Retrieved from https://www.cdc.gov/nchs/products/databriefs/db330.htm on 6/17/19.
What can a clinician or trusted mentor do to help end this epidemic? Where does one look to find the right avenues to follow? Will discussing suicide with someone we are concerned about simply place suicide ideation in their minds where it wasn't before instead of diverting the person's mind to a safer place?
Not so. In their two new books, Suicide and Self-Injury Prevention Workbook: A Clinician's Guide to Assist Adult Clients and the Teen Suicide and Self-Harm Prevention Workbook authors Ester Leutenberg and John Liptak, EdD, collaborate to create a resource "…to help clients recognize that many other people have many of the same issues, to which no shame is connected, and that self-injury and/or suicide is definitely not the answer to their problems." Trained clinicians are given a plethora of assessments to help discover what their clients are thinking and feeling. Worksheets and handouts then provide methodology to guide clients through a process to reevaluate their situation and find reasons to continue the battle and lead them to find their own safe place.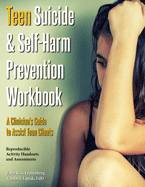 Click here for a free worksheet titled Why You Can Be Hopeful.
While self-injury or self-harm are not the same as an attempt of suicide, many of those who self-harm eventually adopt suicidal ideation. A review of some of the myths about self-harm from the teen version of the workbook reminds us that it isn't just kids who self-harm.
Myths about SELF-HARM
It is important to look at self-harm from an objective mindset. Below are some of the myths and misconceptions that surround the topic of self-harm.
MYTH: Only adults self-harm.
People of all ages self-harm. Self-harm is not particularly meant as a suicide attempt. It is an unhealthy attempt to cope with emotional pain such as anger, frustration, loss, sadness, etc., and physical pain.
MYTH: Teens who self-harm are usually open about self-harm behavior.
Self-harm in teens is usually kept private.
MYTH: Teens who self-harm do this as an occasional expression of behavior and only do it once or twice.
Some teens may self-harm once or twice and then stop. However, many teens do it frequently and it becomes a long-term, continual behavior, and possibly a habit.
MYTH: Teens who self-harm use only the cutting behavior.
Teens who self-harm cut or scratch with a sharp object, hit or punch themselves, carve on or pierce the skin, pull out hair, burn, pick at a wound, etc., or continually put themselves in harm's way, i.e., engage in fights, drive recklessly, abuse substances, etc.
MYTH: Only teens with a mental illness consider self-harm.
Not all teens who self-harm have a mental illness, but they may have emotional, physical, and/or social issues that create unbearable emotions that lead to extreme physical responses.
MYTH: Teens who self-harm are willing to talk about it with others.
Usually, teens who self-harm do not share with other teens. It is vital for the person having self-harm thoughts or behaviors to talk with someone they trust: a therapist, friend, family member, spiritual or religious leader, etc.
MYTH: Self-harm calms the person for a long time.
In fact, the person usually feels guilt, shame, and other painful emotions afterwards.
MYTH: No real damage happens with self-harm.
There is a strong possibility that serious or life-threatening consequences can occur from self-injuring behaviors.
MYTH: Teens self-harm for attention.
Teens who self-harm should not be considered attention-seeking. Teens self-harm for many reasons: to help themselves feel something when they are emotionally numb; to distract themselves from their emotional pain; to punish themselves; or to disfigure themselves.
Although these are only a few of the myths and misconceptions about self-harm, they will provide you with some insight into the thinking that is prevalent about people who self-harm. Encourage individuals to call a trusted person, see a mental health facilitator or medical professional, find a positive support system, and use local or national resources and hotlines.
Click here for the Myths about SELF-HARM handout designed to help clients reframe bothersome incidents.