Chaos and Confusion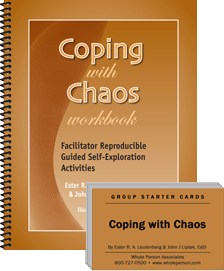 Excerpted from Coping with Chaos
By Ester R.A. Leutenberg and John J. Liptak, EdD
Definition of chaos: a state of utter confusion – Complete disorder – a jumble.
One thing that all people can count on in the twenty-first century is living with chaos. Chaos refers to a state of confusion in your life, the experience of random or unpredictable occurrences, and/or a lack of order to your daily life, space and belongings. Chaos can be seen in the many changes in the workplace, cell phones ringing and people constantly beset with interruptions, the barrage of new information flooding into your brain, thousands of choices, new and improved product ideas, new technologies that arrive daily, and new family structures. Often a family member volunteers or is forced to take on a new role such as caregiving. These are just a few of the many ways people are experiencing increased chaos in their lives which leaves them feeling irritated, frustrated, exhausted, angry, overwhelmed and/or confused.
Many people are interested in returning to the days when life was simpler, calmer, more controllable and more predictable. People want their lives to be full of events, people, and things they can predict and count on. Instead, they feel like they are losing their sense of purpose, control and predictability, and the result of these feelings is a sense of exasperation and weariness.
Faced with many choices, loads of information at everyone's fingertips, and complex technological systems, people seek to establish order and control in their chaotic lives. More than ever before, it is important to understand chaos and attempt to find patterns in the chaos.
This can be seen throughout history:
Religion – Various religions have tried to make sense of the world by coming to terms with evil and making sense of a world that seems aimless, violent, and full of random acts and events.
Science – The history of science is an ongoing attempt to discover patterns in the physical world and to understand incomprehensible and disorderly events. Scientists usually spend their lives searching for laws and patterns that can be repeated and therefore understood.
Mythology – Myths have been handed down through the ages to help cultures make sense of the randomness of events. Myths include parables related to birth, death, journeys to distant lands, magical beasts, mythical heroes and heroines, and gods and goddesses.
People often ask, "Why worry about chaos…there's nothing you can do about it?" The fact is that people can control the chaos in their lives. It can be quite liberating to realize that chaos, although unsettling, need not be as frustrating as people believe. They can learn to define patterns of chaos and redirect their energies and abilities.
A New Way of Looking at Chaos
The Chaos Theory is one of the best theories for dealing with the chaos in the lives of people. This Chaos Theory was developed in the 1970s when James Gleick and Edward Lorenz found that small changes and fateful events set off patterns that could affect everything in their surroundings. They referred to this as the "butterfly effect" when they observed that a butterfly flapping its wings in China could affect weather patterns in Europe.
Therefore, even though chaos finds its way into the lives of every person, it is critical that people find ways to effectively cope with and overcome the chaos. The Chaos Theory suggests that there is no chaos; rather, there is a pattern and underlying order that can be defined by observing it with the right lens.
There are several ways to embrace and manage chaos:
Expect it – In the twenty-first century it is almost impossible to avoid chaos in life. People need to be aware that their plans are likely to be interrupted and changed, and that everything cannot be predicted and controlled.
Understand it – By seeing chaos for what it is and accepting and controlling it, people can see chaos as freedom from predictable routines and constraints. Eventually, chaos can be seen as a transition point to a more controlled, calm and satisfying life.
See it for what it is – Chaos Theory reminds people that even in chaos one can find distinct, critical life patterns. When people are able to identify the patterns in their lives, they can work to control the chaos and live simpler lives.
Control It – Chaos Theory suggests that there is always going to be chaos in the lives of most people. The secret is to be alert to the opportunities chaos brings and find ways of doing one's best to control it so that it does not negatively affect one's life.
All people at some point will experience chaos that will come from a wide variety of sources and can cause people to feel frustrated, stressed out and weary. Most people see this chaos as a symptom of the twenty-first century and feel that there is nothing they can do about it. In reality, chaos can be seen for what it is. People can do something about it and control it in their own lives.
The following worksheets will help your clients begin the process of controlling the chaos in their lives. Try them first yourself so you can guide participants through the process.
Click here to download these worksheets.