50 to 70 Million Americans Struggle with Chronic Sleep Problems
Excerpted from Coping with Sleep Issues Workbook
By Ester R.A. Leutenberg and John J. Liptak, EdD
Most people, at one time or another, have experienced trouble falling asleep or staying asleep. Inability to sleep occasionally is normal and is often the result of some sort of stress in life. However, when sleep problems become a regular occurrence and begin to affect one's ability to function in daily life, the person may have developed a sleep disorder.
A lack of adequate sleep may not seem like a big problem, but it can seriously affect one's performance at school or work, ability to concentrate, ability to control emotions, and ability to handle stress. Lack of sleep is a challenge to one's own general health and well-being.
Adequate sleep is a great buffer that helps to protect people from everyday stress. Sleep is a vital support for one's ability to rejuvenate the mind and body.
Any type of sleep deficiency can seriously increase one's vulnerability to a variety of physical disorders and to a host of negative feelings, emotions, and behaviors such as:
anger
anxiety
frustration
irrational thinking
irritability
sadness
Inadequate sleep can result from two things:
A reduction in the amount of sleep one experiences. This occurs when people find that they are not sleeping enough hours each night.
A reduction in the quality of sleep one is receiving. This occurs when people find that they are having a hard time falling asleep, often awaken, and then may difficulty going back to sleep. This reduction causes a dramatic break in the sleep cycle.
Click here for a printable handout: What is the Sleep Cycle?
Over the years many folks have written about getting a good night's sleep. Here are a few. Journal a few lines about each one and how you feel about it. Do you have other favorite quotes about sleep? Jot them down in your journal and write about how you feel about them. It is important to understand your (and your client's) attitude to sleep problems so you can provide a guide to better sleep that may include anything from easily made changes to routines to participating is a formal sleep study.
Control what you can control. Don't lose sleep worrying about things that you don't have control over, because at the end of the day, you still won't have control over them.
-Cam Newton
Though sleep is called our best friend, it is a friend who often keeps us waiting.
-Jules Verne
If you have difficulty sleeping or are not getting sleep or sleep of good quality, you need to learn the basics of sleep hygiene, make appropriate changes, and possibly consult a sleep expert.
-Andrew Weil
Sleep is the best meditation.
-The Dalai Lama
My father said there are two kinds of people in the world: givers and takers. The takers may eat better, but the givers sleep better.
-Marlo Thomas
Click here for a printable worksheet on quotes about sleep for your clients.
Possible Causes of Sleep Problems
Some clients feel overwhelmed when they try to analyze why they are having trouble sleeping. There are so many possibilities. This list of suggestions can help them narrow down the choice. For example, this is a list of possible causes of sleep problems.
Acid reflux
Allergy
Anger
Anticipation that something might happen
Certain medications
Anxiety
Bedroom cluttered
Caregiving responsibilities
Disappointments
Disease
Electronics (tablet, cell phone, games) in bedroom
Emotional stress
Family issues
Fearfulness
Friend relationships
Frustration
Grief
Guilt
Hot flashes
Hurt feelings
Indecisive
Isolation
Jealousy or envy
Job issues
Medical issues of self or loved one
Mental health issues
Overwhelmed
Partner
Phone use in bedroom
Physical ailment or pain
Regrets
Relatives or in-laws
Sadness
Social life
Stimulants
Substance abuse
Suspicions
Time constraints
Too warm or cool in the bedroom
Trauma
Uncomfortable bed and/or pillow
Click here for a printable worksheet version.
Suggesting small changes that can make a difference is a good start. Some are more difficult to achieve than others. Start with the easier ones and move on from there.
Avoid alcohol, nicotine, or caffeine before bedtime
Avoid extreme exercises before bedtime
Avoid rich and spicy foods before bedtime
Be sure the bed, mattress, and temperature are comfortable
Do easy stretches before bed
Do something mildly stimulating after dinner to avoid falling asleep too early
Don't watch scary television shows before going to sleep
Drink enough fluid at night so as not to wake up thirsty, but not so much that you frequently need to go to the bathroom
Eat nothing or something light before bedtime
Eliminate loud noises
Engage in deep breathing exercises
Enjoy a pleasant book on tape
Get up at the same time each day
Go to sleep at the same time each day
Have the same sleep routine on weekends
If something is on your mind, write it on a paper next to your bed and then fall asleep
If you wake up and can't fall back asleep in 30 minutes, get out of bed until you are tired enough to sleep
Consume no caffeine after noon time
Keep the bedroom cool
Listen to relaxing music
Maintain a bedtime routine
Make preparations for the next day before going to bed
Meditate
Nothing in the room but sleep and intimacy
Progressive relaxation exercise
Read a pleasant book or magazine
Save vigorous exercise for during the day
Stay away from big meals close to bedtime
Take a nap way before bedtime
Take a warm bath or shower before bed
Take prescribed medications
Turn off electronics or technology (other than an alarm clock, turned backwards)
Use earplugs to block out noise
Use guided imagery
Wind down the evening with a favorite hobby, calm music, fun television, or book
Write in a journal
Click here for a printable worksheet version.
According to the U.S. Centers for Disease Control, an estimated 50 to 70 million Americans face chronic sleep problems. Sleep deprivation is associated with injuries, chronic conditions such as obesity, mental illnesses, poor quality of life, increased healthcare costs and lost work productivity.
Most adults require seven to nine hours of sleep each night. Getting less than that daily amount can cause a serious sleep deficit over time. While some sleepless nights may be the result of too much caffeine or thinking about something that's worrying, chronic sleep deprivation is often the result of a sleep disorder such as:
Delayed Sleep Phase Disorder is a disorder in which a person's sleep is delayed by two or more hours beyond the conventional bedtime. This delay in falling asleep causes difficulty in waking up at a desired time.
Insomnia is the most common type of sleep disorder. Some of the symptoms of insomnia include difficulty getting to sleep, waking many times during the night, and often waking before it is time to actually get up. Insomnia can affect normal daytime activities. Insomnia is most often caused by stress, anxiety, certain medications, depression and/or inadequate sleep habits.
Narcolepsy occurs when people feel excessively sleepy in the daytime. The sleepiness felt with narcolepsy is overwhelming. Some people with narcolepsy have uncontrolled sleepy periods that can occur regardless of what they are doing, while others have constant sleepiness throughout the day. The person has this feeling for a period of time longer than three months, and it is accompanied by a higher than usual percentage of REM sleep.
Nightmares are frightening dreams that occur during deep, REM sleep.
Periodic Limb Movement Disorder is the movement of hands, arms, feet, and legs during sleep that frequently causes arousals and disturbs the sleep cycles. Whether the person remembers waking or not, the brain often shifts from sleep to wake in a response to the jerking of the limbs causing the sleep cycle to be disrupted and increase excessive daytime sleepiness.
Restless Leg Syndrome occurs during wake hours and is often worse in the evenings and before bedtime, which can lead to sleep onset insomnia. This discomfort can come in the form of an urge to move one's legs and feet to get relief. People find themselves experiencing excessive and rhythmic movements while they are sleeping.
Sleep Apnea occurs when soft tissue covers the airway, either partially or completely, causing a cessation of breathing for ten seconds or longer repeatedly through the night. This can cause frequent arousals and disruption of the desired sleep cycle. These disruptions cause those suffering from sleep apnea to be very tired during the day.
Sleep Talking is a sleep disorder defined as talking during sleep without being aware of it. Sleep talking can involve complicated dialogues or monologues, complete gibberish, or mumbling. The good news is that for most people it is a rare and short-lived occurrence.
Sleep Terror Disorder occurs mostly in children, but can be found in adults. Night terrors are frightful images that appear in a person's dreams, but are often difficult to remember upon awakening.
Sleepwalking is a disorder that causes people to get out of bed and walk while they are sleeping. It usually happens when a person is going from the deep stage of sleep to a lighter stage, or into the wake state. The sleepwalker can't respond during the event and usually does not remember it.
Clients suffering from serious sleep disorders might be helped by a visit to a sleep center. Contact the American Academy of Sleep Medicine at https://aasm.org/ to find an expert near you.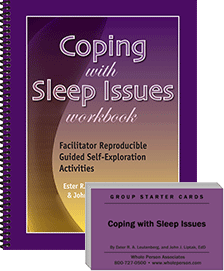 A book such as Coping with Sleep Issues Workbook from where most of this material has been excerpted can be of invaluable help to you and your clients. It can be found at https://wholeperson.com/store/coping-with-sleep-issues-workbook.html.