About Whole Person:
Whole Person Associates is the leading publisher of training resources for professionals who empower people to create and maintain healthy lifestyles by addressing stress management, wellness promotion and mental health issues.
Our products are intentionally focused on the whole person – the complex mixture of physical, social, intellectual, emotional and spiritual components that make us human.  We've included all these components in our logo.
Scroll over our logo to learn more about the

whole

person

philosophy: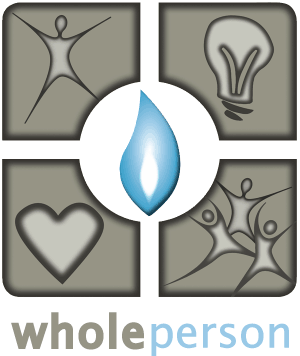 In 1980, Don and Nancy Tubesing founded Whole Person Associates, a family-owned company dedicated to providing the best stress management and wellness materials possible. They used their experience as trainers to develop resources so others could create and deliver outstanding workshops and seminars.
Since its inception, Whole Person has provided a broad range of products based on a whole person approach that considers mental, emotional, social, spiritual, and lifestyle issues. Books, collections of structured exercises, DVD's, and CD's appeal to a variety of learning styles. Always educationally sound, field-tested, gender-balanced, and inclusive, our materials continue the tradition of excellence our customers expect.
Since the Tubesing's retirement, Whole Person Associates' publisher Carlene Sippola has worked to expand Whole Person's extensive circle of contributors, presenting new and innovative products to meet a variety of our customers' needs. New products include resources for therapists, counselors, teachers, parents, care-givers, and individuals as well as exciting new presentations of old favorites.
If you have questions or comments about our site or our products, contact us either through email at books@wholeperson.com, or call us at 800-247-6789. We look forward to hearing from you!